For anyone's culinary taste or preference
There is something about the summery scent of the sea breeze, the turquoise blue of the water, the silky sand against your feet and the warmth of a Greek smile. 
Natura Restaurant is located on the vibrant and elegant beach of Gialova with its crystal clear waters, the spirited energy of Navarino Bay and the Sfakteria island.
Natura Restaurant is open for lunch and dinner, offering Mediterranean cuisine, with a modern Greek touch . Our Restaurant can also be reserved partially or exclusively for special events, parties and weddings. Moreover, there are loungers and parasols directly in front of the Restaurant, where guests can also be served while they are on the beach.
Natura Restaurant allows for a multitude of events to happen concurrently. It is a perfect beachfront venue with stunning panoramic views of the Ionian sea and Sfakteria Island.
Located at the cove of Navarino Bay whilst being protected from the wind, it's ideal for events. Moreover, the deck area can be easily transformed into the most phenomenal setting for a wedding celebration or dinner gala.
The gentle whispers of the waves, the flickering of candles under the plane trees and an exquisite menu, make Natura Restaurant the ideal choice for a wedding ceremony and reception creating an experience that will last for a lifetime.
Full selection of tea, coffee, wine & spirits…
Messinian afternoons are designed for summer drinks on the beach, gazing out to the sea and up to the stars. Enjoy exotic cocktails in the shade of the trees next to the beach. Come and feel the summer vibes, sit back and relax listening to great music with a cocktail in hand, crafted by our experienced mixologist.
Full selection of croissants, teas, coffee, fruits, eggs and many other local delicacies…
Being the most important meal of the day, our breakfast includes a variety of flavors, with pure and natural ingredients, handmade products and incredible local delicacies.
From freshly squeezed juices, to aromatic coffees and teas, eggs, sausages, olives, cheese, ham, tomatoes, jams, yogurt and freshly baked bread, having breakfast at the Zoe Seaside Resort will give you the energy and nutrients you need in the morning.
Whether you desire sweet or savory tastes, or both, do not miss out our breakfast which is being served at Natura Restaurant daily from 07:30 to 10:30 am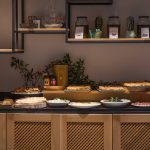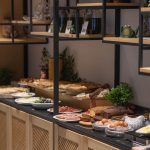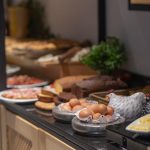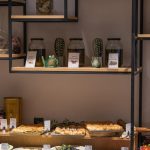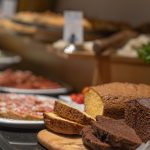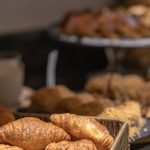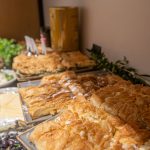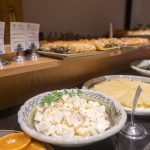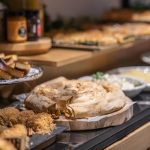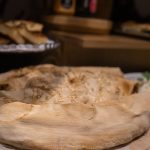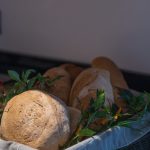 Yes! It is all about romance!
Love is all around, so wait for the sun to slip into the sea before you indulge into an unforgettable experience of dinning under the stars. Enjoy the exquisite menu, the breathtaking view and the wonderful atmosphere with your loved ones creating a memory to cherish for years! We offer an array of tastes to choose from, having created the best menu with a plethora of options to satisfy your preferences. Set the date, set the time and let us set up a sophisticated dinner in order to complete your gastronomical experience in Gialova!
Natura gialova on Instagram